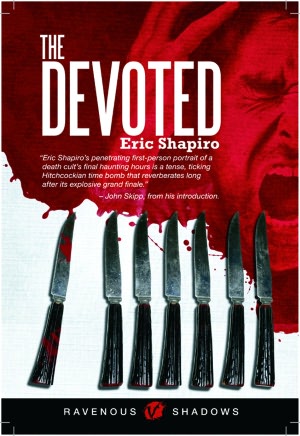 "Eric Shapiro knows that sometimes the worst horrors are the ones we make for ourselves. His book is riveting from the very first, his writing crisp, witty, and stylish. There's real wisdom here, and compassion. Mr. Shapiro? Do us a favor. Keep on drumming!"
--Jack Ketchum
"The Devoted takes you to the edge of what you think you know and then whispers that you're already in this book. That you have been all along."
--Stephen Graham Jones
"Eric Shapiro's The Devoted is a disturbing and frighteningly immersive portrait of life inside the last days of a collapsing cult. This fast-paced kaleidoscope of narrative styles swings swiftly from seduction to self-immolating shock to a bloody, beautiful end." —Jeremy Robert Johnson, author of WE LIVE INSIDE YOU and ANGEL DUST APOCALYPSE
They wanted to find themselves. He told them to free themselves. They peeled away their lives, their jobs, their families, their inhibitions and attachments to the world. Devoted only to Him. Mind, body, and soul.
Now He has determined that it's time to let go. Erase the mind. Release the body. Unleash the soul. Ultimate freedom, or ultimate insanity?
Today, at last, they will know…
Click here to buy